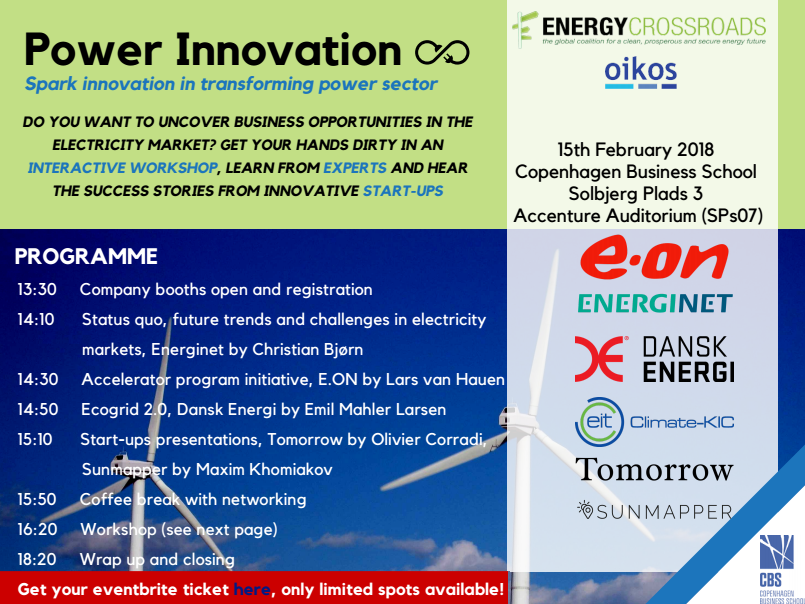 Power Innovation: Spark Innovation in Transforming Power Sector
Do you want to uncover business opportunities in the electricity market?
Get your hands dirty in an interactive workshop, learn from experts and hear the success stories from Innovative start-ups!
The energy sector is rapidly changing. Formerly characterized by a centralized form of governance, the market for energy provision is now increasingly decentralizing. This has opened up business opportunities for greener solutions: varying types of renewable energy providers are winning market share, and they are collectively determined to overtake the market.
Energy Crossroads Denmark and oikos Copenhagen give you the opportunity to meet both big players in the electricity market, innovative start-ups and like-minded students. All in all – we want you to get the tools and be inspired to create a low-carbon business idea.
PROGRAM
13:30 Company booths open and registration
14:10 Status quo, future trends and challenges in electricity markets – Energinet.dk by Christian Bjørn.
14:30 Accelerator program initiative – E.ON by Lars van Hauen
14:50 Ecogrid 2.0 – Dansk Energi by Emil Mahler Larsen   EcoGrid-2.0_Dansk-Energi
15:10 Start-ups presentations: – Tomorrow by Olivier Corradi
– Sunmapper by Maxim Khomiakov
15:50 Coffee break with networking
16:20 Workshop
18:20 Wrap up and closing
Get your eventbrite ticket here, only limited spots available!
2018-02-15 13:30
2018-02-15 18:20
Europe/Copenhagen
Power Innovation: Spark Innovation in Transforming Power Sector
Power Innovation: Spark Innovation in Transforming Power Sector Do you want to uncover business opportunities in the electricity market? Get your hands dirty in an interactive workshop, learn from experts and hear the success stories from Innovative start-ups! The energy sector is rapidly changing. Formerly characterized by a centralized form of governance, the market for […]
Copenhagen Business School, Accenture Auditorium (SPs07)
denmarkenergycrossroads@gmail.com