I had the great fortune of spending last week in the town of Kangerlussuaq in western Greenland.
I was there with a class studying climate change – its causes, effects, and how the scientists who study it live while working in the field. Specifically, we were there to study glaciers, one of the key players in climate change. Glaciers are one of the most sensitive systems on Earth to global warming, and even a relatively small amount of glacial melting can have enormous impacts.
This was seen very dramatically throughout Greenland in the summer of 2012. Between 8 and 12 July, satellite readings showed that 97 percent of the surface of the Greenland ice sheet was experiencing melting. This does not mean that 97 percent of Greenland's ice was gone in a day, rather that temperatures across almost the entire ice sheet had risen above freezing. Still, the resulting melt was cataclysmic and unprecedented. A bridge over the Watson River in Kangerlussuaq, connecting the country's only international airport to essential utilities, was badly damaged, nearly cutting Greenland off from international air travel.
Some dramatic videos of the meltwater flow in Kangerlussuaq:
Bulldozer swept away by meltwater
Other changes are subtler. We visited the face of Russell Glacier, and while we were in awe at its massive scale, our professor (who has been visiting that spot for years) told us that it was much smaller than it had been even some 15 years ago. In fact, when he first came to that spot, the glacier was so much taller that it obscured the mountains behind it, which were now clearly visible.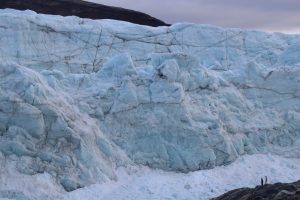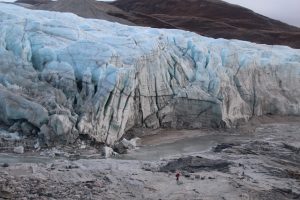 Photos: Bryce Silver-Bates
The next day, we drove out to the ice sheet itself. Kangerlussuaq, in fact, is the only place in the world where you can drive directly to an ice sheet. The 35km road was constructed about 20 years ago by the Volkswagen company to test vehicles on. When the road was built, it terminated directly at the edge of the ice sheet. When we got to the end of the road, however, we had to walk several hundred meters to get to the ice, as the sheet had retreated a significant amount in the intervening years. It was a strange and dramatic experience. With each step, we were walking the distance of climate change in our own lifetimes.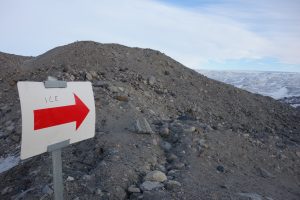 Photo: Gus Caitlin